LD Series Tracked Mobile Screening Plant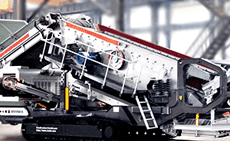 In mobile crushing and screening process, whether the customer require two-stage or three- stage plant, the combination of LD series mobile crushing and screening plants can provide the customer optimumsolution, and our outstanding designing teamare ready to customize a plant o fit all the customer specific requirements.
1. Incorporated design.
2. Truck mounted.
3. Quick road transportation.
4. With support legs on truck, quick to set-up.
Get Solution & Price Right Now!
leave your message here, we'll send you an Email immediately.
CONTACT US
0086-21-58386256
0086-21-58385887