NG Peripheral Traction Thickener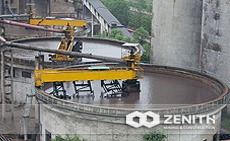 Our thickener is applicable for dewatering headings and tailing in the separation plant. It can improve the ore pulp from 20~30% to approx. 40~70%. The thickener is widely applied to the industries such as metallurgical, chemical industry, coal, non-ferrous metal ore dressing, and environmental protection.
1.NG thickener is a kind of peripheral traction thickener of running roller type. Large-scale thickener usually adopts such type of peripheral traction. In the event of skidding of running roller due to overloading, no specoal safety device is required. Its tank is usually made of concrete.
2.In order to charge the motor, annular nodes are arranged on the central support.The current collection joints with sliding ring are connected with the arm brace, and the current is introduced to the motor through these joints by the cable laid on the arm brace.
Get Solution & Price Right Now!
leave your message here, we'll send you an Email immediately.
CONTACT US
0086-21-58386256
0086-21-58385887