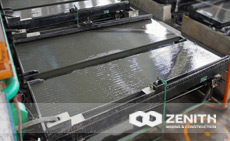 6S Shaking table is one kind of main equipment of gravity concentration, which is be widely used in minerals separation of tungsten, tin, tantalum, niobium, gold and other rare metals and precious metal ores. It is applied in different separations of rough concentration, elaborate concentration and scavenging concentration, which can process coarse sand (2-0.5mm), fine sand (0.5-0.074mm) and ore slurry(-0.074). It also can be used in processing iron, manganese ore and coal. The effective recycling granularity range of shaking table is 2-0.22 millimeters during processing tungsten, tin ores.
1.Characterized by high rich ore ratio, high separating efficiency.
2.Easiness to take charge and convenient adjustment.
3.Keep table surface operate balanced even though changing cross fall and stroke.
4.The springs with compact structure are placed in the table.
5.The final concentrated ore and gangue can be obtained once.
Get Solution & Price Right Now!
leave your message here, we'll send you an Email immediately.
CONTACT US
0086-21-58386256
0086-21-58385887