XCF/KYF Series Flotation Machine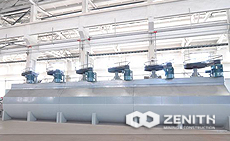 Model XCF and KYF are enforced aeration flotation machine, and widely used for nonferrous metals, ferrous metal, and non-metallic minerals. These two always work together, have similar structures features and almost the same overall dimension size
1.It has a smaller diameter of impeller and lower power consumption which saves 30%-50% of power.
2.An air distributor is equipped in the tank, air is evenly dispersed.
3.The impeller works as a centrifugal pump, so as to make the solid particles suspending.
4.The tank is made as U type, reducing sand settlement to the least.
5.Due to reasonable design of the impeller structure and the impeller space, impeller wearing is even, reagents consumption is less and save the running cost.
6.Can run with load, the structure is simple and have easily maintenance. 7.With slurry level control system and make it operated easily.
Get Solution & Price Right Now!
leave your message here, we'll send you an Email immediately.
CONTACT US
0086-21-58386256
0086-21-58385887