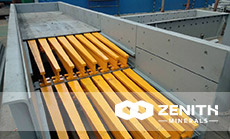 GF Vibrating Feeder is the grizzly feeder driven by the vibrating motor. As an efficient primary feeder, it is specially designed for mobile crushing stations (also known as "mobile crushers), semi-fixed crushing lines and small stock ground (Usually, the capacity is below 250TPH and the available volume of material silo is below 30m3.) It is suitable to feed materials into jaw crushers, primary impact crushers and hammer crushers, etc. Sometimes, it functions as a primary conveyor.
1.Bigger Vibration Strength, Higher Capacity
G-force is a key index testifying the performance of vibrating machines. The bigger the vibration strength is, the higher the capacity would be. GF Vibrating Feeder adopts advanced design theories and manufacturing technologies. Its biggest vibration strength reaches 4.0G and its capacity is 20% higher than traditional TSW Feeder.
2.Two-stage Drop Structure Improving the Ability to Pre-screen Materials
GF Vibrating Feeder adopts a drop structure composed of two layers of grizzly bars, which can effectively screen out fine materials whose size is smaller than that of CSS (or tight-edge discharge port) because of double screenings. The removal rate of fine materials can be as high as 90%, greatly reducing the burden of primary crushers.
3.Taking Vibrating Motor as the Vibration Source Making Operation Stable & Convenient
GF Vibrating Feeder takes vibrating motor as the vibration source. Users can control vibration force by adjusting the vibrating motor according to actual needs. The operation is quite easy, convenient and stable.
4.Rubber Spring Boasting Higher Holding Capacity
Compared with traditional metal spring, the rubber spring GF Vibrating Feeder adopts owns higher holding capacity and longer service life. Besides, the whole operation is characterized by high stability, low noise and little shock to the foundation.
Get Solution & Price Right Now!
leave your message here, we'll send you an Email immediately.
CONTACT US
0086-21-58386256
0086-21-58385887