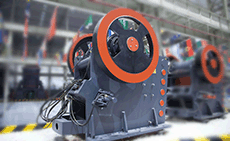 PEW Jaw Crusher is a new generation of jaw crusher, which adopts advanced international crushing technologies and production skills. When you want to crush hard materials efficiently, ZENITH's PEW Jaw Crusher is a good choice. Meanwhile, it has a wide range of applications, particularly suitable for crushing hard rocks such as basalt, river pebbles. This series of jaw crusher has an extra-high adaptive capacity for all kinds of mining materials (including minerals, rocks, slag) whose anti-pressure is no more than 280Mpa.
1. Durable moving jaw assembly
2. Integral cast steel bearing housings
3. Fast and safe setting adjustment
4. Optimized cavity design
5. Larger bearings have bigger carrying capacity
6. Compact & robust structure
Get Solution & Price Right Now!
leave your message here, we'll send you an Email immediately.
CONTACT US
0086-21-58386256
0086-21-58385887