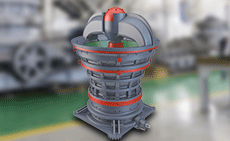 Based on 30 years' experience on the design of crushing equipment and thousands of production lines, ZENITH updates its product list by pushing out the advanced HGT Gyratory Crusher.
HGT Gyratory Crusher was developed to cater for market demands for efficient large crushing equipment. It combines the industrial developmental needs and international advanced crushing technologies, so its performances can totally reach the world-class level.

HGT Gyratory Crusher integrates mechanical, hydraulic, electric, automation and intelligent controlling technologies, which grants it with advantages traditional crushing equipment fails to own.
Compared with traditional gyratory crushers, it has higher crushing efficiency, lower production costs and more convenient maintenance. It is a new intelligent coarse crushing machine having large capacity and high efficiency, suitable for large-scale coarse crushing projects.
1. High-quality Machine Ensures Longer Life Expectancy yet Lower Crushing Costs
Heavy-duty framework, large-dimension integrated axis assembly and high-performance bearings can validly extend service life, ensure safer operation and reduce crushing costs.
2. Hydraulic Adjustment, Controllable Product Granularity
The discharge port adjustment system adopts hydraulic mode to offset the abrasion of lining plate. By this, users can easily adjust the axis to offset the abrasion of lining plate so as to control the granularity of final products.
3. Convenient Checks & Maintenances
HGT Gyratory Crusher is equipped with automatic lubrication, heating, cooling and circulatory system as well as automatic axis positioning system. Meanwhile, hydraulic beam splitter can be installed to disassemble the beam during operation. As a whole, various automated devices and user-friendly designs make checks and maintenance more convenient.
4. One-piece Axis Eliminates Risks that Moving Cone Gets Loose
The axis is forged integrally, which eliminates risks that the moving cone gets loose, so that the production can be more stable and further the downtime can be shortened. Diameter of the upper journal is lengthened. It has high strength, able to adapt to harsh crushing environment.
5. Automatic Control Makes Operation More Convenient
The automatic control system supervises almost all steps during crushing. Besides, by this system, production information and performances of crushers can be recorded. The 24h operational trend figures can be offered to help users analyze the production situations.
6. Strong Adaptability, Applicable for Severe Crushing Conditions
Whether being used in fixed or semi-mobile crushing lines, on ground or underground, HGT Gyratory Crusher is applicable in severe crushing environment. It is able to crush various hard and abrasive ores and rocks.
Get Solution & Price Right Now!
leave your message here, we'll send you an Email immediately.
CONTACT US
0086-21-58386256
0086-21-58385887