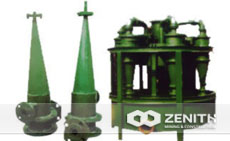 Hydro-cyclone is a kind of equipment for classifying the ore pulp by use of centrifugal force. It has no motion and dynamic parts,and needs to be matched with corresponding slurry pump. It is mainly used in ore dressing industry for classifying, dewatering and desliming.
1.Simple structure, easy installation and operation.
2.Small size and floor area, easy to transport.
3.Larger capacity with lower cost
4.Finer partition size and high classifying efficiency.
5.More powerful and efficient combined unit can be selected by connecting several units of cyclone in parallel or in series.
6.Alternative Automation control system.
7.Polyurethane wear-resisting material to make the life-span longer
Get Solution & Price Right Now!
leave your message here, we'll send you an Email immediately.
CONTACT US
0086-21-58386256
0086-21-58385887