BF Series Flotation Machine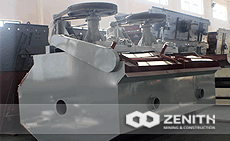 BF series flotation machine is improved from SF series but it is mainly used for iron ore and some other large proportion minerals. It imbibe the air and ore pulp spontaneously and the double-blade impeller can agitate the coarse sand at the bottom adequately.
1.Impeller is composed of the dosed double section cones and it can produce strong slurry cycle downward;
2.The capacity of air suction is large, the power consumption is low;
3.Every tank gas three functions of air suction, slurry suction and flotation simultaneously being unique in flotation return circuit;
4.The circuit change is convenient for horizontal position without need for any supplementary equipment;
5.The slurry cycle is rational, the settlement of coarse sand can be reduced into full play.
6.The regulation is convenient to equip auto and electro-controlling arrangements for slurry level.
Get Solution & Price Right Now!
leave your message here, we'll send you an Email immediately.
CONTACT US
0086-21-58386256
0086-21-58385887