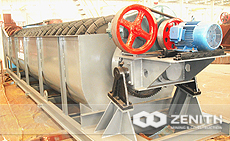 Zenith FL spiral classifiers are widely used for separation plant They can be combined with ball mill to form a closed circuit for preliminary classification and check classification,sometimes they can be applied for ore washing, desliming and dewatering as well.
1.Simple structure and easy to maintain
2.Easy operation and stable performance
3.Gravity connection with Ball mills,slurry pump conveying is not necessary.
4.Large volume with buffering and conveying effect, better for grinding work.
Get Solution & Price Right Now!
leave your message here, we'll send you an Email immediately.
CONTACT US
0086-21-58386256
0086-21-58385887