SJ Series Double-impeller Leaching Tank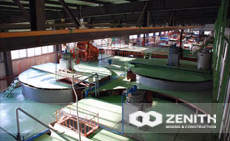 SJ series double-impeller leaching tank is mainly used in cyanide leaching of gold producing and sewage treatment of cyanide factories. It is also used in metallurgy, chemical industry and light industry. In carbon slurry process and cyanide process, the leaching tank should be used together with carbon screen, carbon pulp and other auxiliary equipment.
1.Reasonable structure and high transmission efficiency.
2.Large diameter impeller and low rotate speed lead to the low power and carbon consumption.
3.Air spread evenly; bubble size is small.
4.Impeller is lined with rubber; cycle speed is low; long service life.
5.Stirring intensity is proper, pulp density and fineness distribution are almost the same. Increase the
6.cyanide leaching efficiency and carbon adsorption rate.
Get Solution & Price Right Now!
leave your message here, we'll send you an Email immediately.
CONTACT US
0086-21-58386256
0086-21-58385887