NZ Center Drive Thickener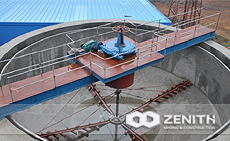 Our NZ thickener is applicable for small scale thickening. The diameter of our NZ series thickener is under 20m. The thickeners with a diameter less than 12m is of manual handle type, and thickeners with a diameter over 12m adopt electric handle device. In order to deal with corrosive slurry, we also develop the anti-corrosive type thickener. The center drive thickener is mainly consist of thickener tank, rake, rake drive, rake lift, feeder, discharge cone, overload indicating or alarming device and etc.
1.1 Easy to operate, high dependability
1.2 not easy to wear and scrape,long service life
1.3 simple structure and convenient maintance
Get Solution & Price Right Now!
leave your message here, we'll send you an Email immediately.
CONTACT US
0086-21-58386256
0086-21-58385887