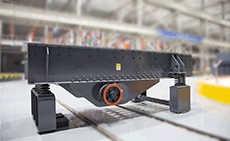 Base on decades of years' R&D experience and thousands of clients' production experience, ZENITH updated our tranditional vibrating feeder and developped the TSW series feeder, which can greatly improve the whole production line capacity. Now this machine is widely used in metal ore mining industries, building construction, solid waste management and cement industry and many other industries.
1.Benefit from its strong vibration exciter and two-steps grids design, the handling capacity is greatly increased.
2.Because of the adoption of converter control equipment, the feeding capacity can be controled exactly.
3.The TSW feeder use updated material and structure design, so the service life is quite long and the it's easy to maintain.
4.The two-stepped grids can screen the raw minerals directly, reducing the handling capacity of flowing crushers. As a result, the whole production line capacity can be greatly increased.
Get Solution & Price Right Now!
leave your message here, we'll send you an Email immediately.
CONTACT US
0086-21-58386256
0086-21-58385887