GX High Efficiency Thickener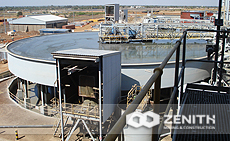 Our GX series high efficiency thickener is similar with our center drive thickener. Its main characteristic is adding the flocculant to the slurry that to be thickened. Thus the mineral grain in slurry will become into flocculation.The sedimentation velocity will be highly increased and the efficiency of the thickener will be improved. GX series high efficiency thickener is composed of main equipments,flocculation maker and feeder,automatic control device and etc.
1.1 High underflow concentration. The settling concentrate can be above 40% .
1.2 High capacity, small occupation space. When processing same thickness and volume slurry, comparing with the traditional thickener, the GX thickener only takes 20% of the subsidence area.
1.3 Overflow water quality is quite good.The suspended matter of the overflow can be less than 500mg/L. So it can be used as circulating water.
1.4 It can be equipped with automatic detection and control system.
Get Solution & Price Right Now!
leave your message here, we'll send you an Email immediately.
CONTACT US
0086-21-58386256
0086-21-58385887