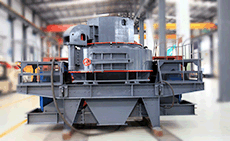 Zenith B Series VSI Crusher (Sand Making Machine) is one of the most advanced impact crushers nowadays. It introduces high quality roller bearings like Sweden SKF and America TIMKEN, which ensure the smooth running of main unit. Personalized design is used in upper cap, sand making machine is easy and convenient to maintain and replace spare parts. Sand making machine is our sole patent using central feeding & central cascade feeding, which can be changed based on customers' needs.
1. Advanced double pump oil lubrication system minimize the maintenance frequency.
2. High precision roller bearing, smooth main unit running, and long service time.
3. Hydraulic lift cap, easy and convenient replacement and maintenance.
4. Overvibration alarm system.
5. Special dustproof seal system, outside powder is prevented from entering nozzles .
6. Unique feeding method, change between central feeding and central feeding with cascade feeding makes rock on rock and rock on iron possible, both crushing and shaping are achieved.
7. Particular material throw head design and reasonable material selection prolong the service time.
Get Solution & Price Right Now!
leave your message here, we'll send you an Email immediately.
CONTACT US
0086-21-58386256
0086-21-58385887