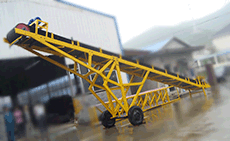 Zenith conveyor is adaptable to both stationary and mobile crushing plants, it is widely used in mining, metallurgical and coal industry to transfer sandy or lump materials, or packaged materials. The transfer system can be one single or multi-conveyors or combined with other transfer equipments according to various transferring requirements. And Zenith belt conveyor can be installed horizontally or aslope to meet the needs of different transfer lines.
1. High capacity.
2. Standard parts.
3. Simple structure.
4. Easy Maintenance .
5. Easy to operate.
6. The length of the belt is customized.
Get Solution & Price Right Now!
leave your message here, we'll send you an Email immediately.
CONTACT US
0086-21-58386256
0086-21-58385887