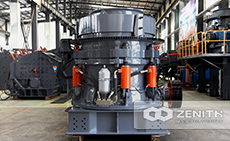 ZENITH HPT multiple cylinder hydraulic cone crushers, which incorporates the latest global crushing technologies with high efficiency and easy operation, are the pacemaker in China's hydraulic cone crushers for the excellent operating performance and positive customer feedback. It efficiently fulfills various crushing demands, such as: large capacities, first-class cubicity, low operating and maintenance cost, full process adaptability, etc.
1. The unique structure with a fixed main shaft and an eccentric bushing rotating around the shaft and the optimized transmission parts and internal structure design allow bigger bearing capacity, higher installed power, smaller floor space and lower noise.
2. The whole operating system adopts full hydraulic control. From safety, cavity clearing to adjustment and locking, hydraulic manipulation guarantees the stability, convenience and reliability of the operation, greatly reducing the downtime. Full-automatic operation is achieved at the same time, lowering the labor costs.
3. HPT series multiple cylinder hydraulic cone crushers are equipped with integrated hydraulic lubrication system and centralized automatic control system, decreasing the input cost of hydraulic lubrication. And the two systems can monitor the operating state in real time, ensuring that the equipment can run safely and stably.
4. The optimized structure and cavity, adapting interparticle crushing principle, ensure high performance of the crushers. It improves the interparticle crushing efficiency and decreases the wear of wear-resistant parts. And the quality of final products is highly improved as the product shape is cube sized and the content of fine product is high. The unique design lowers the operation cost of the equipment and the whole operation system.
5. HPT series multiple cylinder hydraulic cone crushers have multiple cavities from secondary, tertiary to quaternary, and the conversion between the cavity-type is very convenient by replacing only a few components such as the liner plate. So, it's convenient to apply to various kinds of production process requirements.
Get Solution & Price Right Now!
leave your message here, we'll send you an Email immediately.
CONTACT US
0086-21-58386256
0086-21-58385887