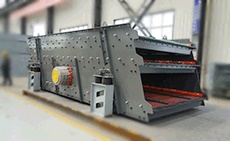 S5X Vibrating Screen is of high vibration intensity. Under the same specifications, it has larger processing capacity and higher screening efficiency compared to traditional screens. It is particularly applicable to heavy type, middle type and fine screening operations, and it is the ideal screening equipment for primary crushing, secondary crushing and finished materials.
1.Stronger vibration exciter improves the screening efficiency.
2.The optimized screen box structure makes operations more reliable.
3.The vibration exciter and the screen box frame of S5X Vibrating Screen use modular structures. Besides, spare parts have higher degree of general utilization. So, it is easier and quicker for later replacement of spare parts.
4.S5X Vibrating Screen adopts flexible drive device, which can protect the motor from strong shock and free the torque transmission from the axial force, so that the operation of the equipment is more stable. The screen is supported by rubber springs which have long service life and strong corrosion resistance, bringing smooth operation, low noise and less impact on the foundation.
Get Solution & Price Right Now!
leave your message here, we'll send you an Email immediately.
CONTACT US
0086-21-58386256
0086-21-58385887