MRN Pendulous Hanging Grinding Mill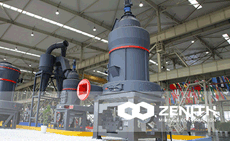 MRN pendulous hanging grinding mill represents the most advanced grinding processing technology at present, and its application of patent technology of brand-new structural design makes the equipment's operation and maintenance cost much lower, environmental protection performance more excellent and discharging quality much superior, thus it is the optimum choice for upgrading and updating. The limestone, calcite, marble, barite, feldspar, talc, bauxite, phosphate ore, iron oxide red, dolomite, granite, bituminous coal, anthracite, lignite, kaolin, bentonite and other non-combustible and non-explosive brittle mineral products whose Moh's hardness are below Grade 7 and water content below 6% could all be ground.
Thin oil lubricating grinding roller device, low maintenance cost
Grinding roller device of MRN pendulous hanging grinding mill adopts thin oil lubrication, which is a technology initiated domestically, and it is maintenance-free and easy to operate. Thin oil lubrication is of oil bath lubrication, which is more convenient than grease lubrication since no frequent oil-adding, and it is of lower maintenance cost as well.
Cancel shovel blade cylinder structure, improving the grinding efficiency
In combination with large-diameter grinding roller design, the shovel blade cylinder structure is of higher grinding efficiency. Since there is no shovel blade cylinder structure in the grinding chamber, whose ventilation area is larger and air-conveying resistance is smaller, and in combination with super-strong grinding force of large-diameter grinding roller, the grinding efficiency is improved directly.
Volute elastic damping structure ensures stability of equipment
Volute elastic damping structure can effectively block vibrating damage of the host. Between the volute and engine base, special elastic structure is applied, and in combination with setup of rubber shock pad, it could directly avoid influence of vibration of engine base on operating stability of powder concentrator, and completely eradicate the problem of shatter crack of volute and central engine due to vibration of engine base.
Diluted oil lubricating method realizes excellent stability performance of equipment
Main shaft of host applies diluted self-lubricating system, which is full-automatic and labor-saving. The main-shaft bearing, transmission-shaft bearing and gear engagement surface are all supplied with cyclic oil lubrication and heat dissipation by built-in oil pump with automatic operation ever without manual operation, which can timely and effectively ensure operating stability of the host.
Special temperature detecting device of main-shaft bearing
Special temperature detecting device is set in the place of main-shaft bearing, which could make real-time detection of operating condition of the bearing, is convenient for discovering bearing malfunctions timely and could ensure reliability of operation of equipment.
Automatic oil-temperature detecting device of host reducer
The host reducer is equipped with oil-temperature detecting system and heating unit, and it could operate automatically under low temperature according to set requirement, ensuring the host lubricating system operate in optimum status.
Groove shovel flow channel, high grinding efficiency
MRN pendulous hanging grinding mill applies special groove shovel flow channel, which could effectively concentrate the materials, and make it easier for the shovel blade to convey the materials to the grinding area, thus improving the grinding efficiency.
Mesh grinding roller hanger, high material-conveying efficiency
Grinding roller hanger applies unusual mesh design, which could effectively increase the ventilation area of the grinding chamber while ensuring strength of the hanger, and could directly improve material-conveying efficiency while lowering the windage.
New-type cage powder concentrator, low power consumption of the system
Powder concentrator applies low-resistance hanging cage powder concentrator, which is of narrow grain-size sorting, high sorting efficiency, low system energy consumption, and under condition of equal materials and fineness, it is of lower power consumption and higher productivity than blade-type powder concentrator.
Get Solution & Price Right Now!
leave your message here, we'll send you an Email immediately.
CONTACT US
0086-21-58386256
0086-21-58385887