B Series Deep Rotor Vertical Shaft Impact Crusher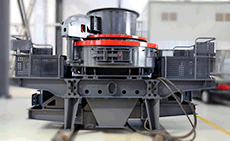 B Series Deep Rotor VSI Crusher is a new generation and high effective product which introduces German technology, and owns many independent patent properties. It integrates three crushing methods into one. All of these made it the core equipment in sand making industries. It is widely used in a variety of metallic and non-metallic minerals, cement, refractories, abrasives, glass raw materials, construction aggregate, sand, metallurgical and other industries. Be applicable for medium and fine crushing of various ores and rocks, such as iron ore, non-ferrous metal ore, corundum, bauxite, quartz sand, corundum, perlite, basalt materials. It incorporates three crushing styles: material on material, material on iron and falling at side. It is widely used in a variety of fields such as minerals, cement, sand, metallurgical and other industries.
1. Deep cavity-type rotor design is optimized to increase material pass-through volume by 30%.
2. Modular-design hammer, just to replace worn parts when wear out, it can reduce cost more than 30%.
3. The core abrasion-resistant material is high degree wear-resistant and temperature-resistant material.
4. Diamond-shaped impact block avoids stand plate being damaged after wear out.
5. Bearing use Swedish and American international brand.
6. Optimal shooting mouth and more fluid curve-shaped design reduce the resistance to the material flow, improving material pass-through capacity as well.
7. Special seal structure in the spindle end, ensure no oil leak even without oil seal.
8. Hydraulic openings device uses Japan imported parts, it is easy and quick to move upper lid, so the internal mechanical overhaul and replacement cost less labor effort.
9. Uses high protection motor, which features high efficiency and low noise.
Get Solution & Price Right Now!
leave your message here, we'll send you an Email immediately.
CONTACT US
0086-21-58386256
0086-21-58385887