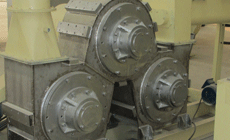 The mineral powder surface coating machine is widely used in the fields of non-metal stuffing or pigment like plastic, rubber, adhesive, macromolecule materials, high polymer composite, functional materials and dope industries. As an outcome of the development of new and high technology, it can not only improve the compatibility of both non-organic mineral stuff and organic high polymer, enhance binding force of interfaces, rise the mechanical strength and comprehensive ability; but also increase the stuffing ability of powder, save product cost and add special physical and chemical property.
Continuous operation, large capacity, suitable for industrialized production in various scales.
High use and less consumption of modifying agent, high covering and active index of powder, energy saving.
Both modifying and dispersion function, suitable for any fine materials, special active effect for material with small proportion and big cubage weight like white carbon, mica powder and talcum powder.
Powder and agent mixing and running in high speed and vortex, high modifying efficiency, with little change of granulate shape.
Running in negative pressure working condition, air tight, no dust leakage, no pollution, good operation condition, low labor intensity.
Operating in heat and cold conditions, no additional heating or cooling system required,easy operation.
Get Solution & Price Right Now!
leave your message here, we'll send you an Email immediately.
CONTACT US
0086-21-58386256
0086-21-58385887