MTM130X Series Strengthened Ultrafine Mill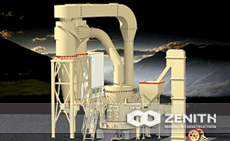 Based on many years research, our mill experts designed MTM130X Series strengthened Ultra fine mill on the basis of our original patented product - MTM Series trapezium mill.
The MTM130X machine can be used for grinding various kinds of nonflammable and non-explosive minerals of which Moh's hardness is less than 9.3 and moisture content is lower than 6%. The typical materials are quartz, feldspar, calcite, talc, barite, fluorite, rare earth, marble, ceramics, bauxite, manganese ore, iron ore, copper, rock phosphate, iron oxide red, zircon sand, slag, water residue, cement clinker, activated carbon, dolomite, granite, garnet, iron oxide yellow, chemical fertilizer, compound fertilizer, fly ash, bituminous coal, coke, lignite, magnesium sand, chromium oxide green, gold ore, red mud, clay, kaolin, gangue, porcelain clay, kyanite, fluorspar, bentonite, maifanite, streaming proluta, muddy green rock, pyrophyllite, shale, sand stone, diego rock, basalt, gypsum, graphite, silicon carbide, thermal insulation materials, etc.
1. Complete soft connection
There is soft connection between machine body and base , non-rigid contact ,which avoids the passing of vibration from the grinding chamber to the machine body and classifier, to improve the accuracy of separating.
2. Adoption of nodular cast iron
The base is made of nodular cast iron. This high strength, anti-vibration material has the damping property of cast iron, intensity of cast steel and good dent resistance.
3. German-made imitation of Flender reducer
Make full use of professional manufacturer's advantages and increase the stability of machines. The reducer and motor use triangle-belt delivery power, which is good for overload protection.
4. Adoption of elastic sleeve pin coupling
The main unit and reducer is used of elastic sleeve pin coupling, which avoids the easily broken of Nylon Pin, improves its reliability.
5. Adoption of high-density blade
The analysis machine is used of high-density blade machine, which can increase the fineness of the powder and production. The new structure of blade turn table avoids the pass of coarse powder.
6. Frequency conversion system
The classifier is used of frequency conversion system, which costs lower energy, is in better control of speed, and has high degree of automation.
7. Adoption of bypass powder collector
It has isolation room and can reduce the possibility for powder to escape. Compared with normal powder collector, this system loses less pressure, has higher efficiency and is especially good at collecting ultra fine powder.
8. The same resistance system of equipment layout
Equipment layout plan has the same resistance, which avoids different output pressure of two powder collectors, improves the powder collector's efficiency, reduces internal circulation and increases the output of the mill.
9. A straight line of three discharge ports
Two discharge ports of powder collector and one discharge port of dust collector is in a straight line. This is good for centralized collection, reduction of labor amount and packaging.
10. Maintenance platform.
Setting maintenance platform, so that the mill maintenance is more convenient and safer.
Get Solution & Price Right Now!
leave your message here, we'll send you an Email immediately.
CONTACT US
0086-21-58386256
0086-21-58385887