Y Series Mobile Combined Crushing Plant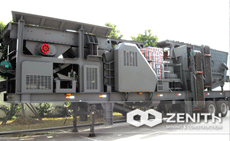 The mobile conbined crushing plant has the advantages of easy transportation, low transportation cost, flexible configuration, convenient maintenance etc. It can be operated as independent units, or as two-stage crushing plant with primary and secondary crushing, or as three stage crushing plant with primary, secondary, and tertiary crushing according to different clients' requirements. Likewise, it can be easily adjusted to suit the crushing application by choosing feeding to crusher or feeding to screen options.
1. The product use of world-class manufacturing processes, selection of the most high-end materials.
2. The base of bearing use of integrated steel structures.
3. The broken cavity using "V"-shaped structure, so that the actual width of feed is same as nominal line width.
4. The broken cavity is deep and without dead zone, increased capacity and output feed.
5. Lubrication system is safe and reliable, convenient of replace parts, easy to maintenance.
6. The outlet use of pad-style adjustment devices, convenient and reliable, large of adjustment range, and increase the flexibility of the equipment.
7. Low noise, less dust.
Get Solution & Price Right Now!
leave your message here, we'll send you an Email immediately.
CONTACT US
0086-21-58386256
0086-21-58385887