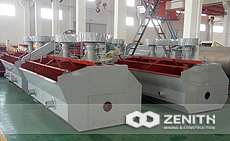 SF series flotation cell can imbibe the air and ore pulp spontaneously, with a fore-raking tank not liable to precipitation into the tank but facilitating returning of the foams. Its double-blade impeller can agitate the coarse sand at the bottom adequately.
1.Large air suction amount, low power consumption;
2.Horizontal arrangement, no foam pump required,
3.Low peripheral velocity of the impeller, long service life of the impeller cover plate,
4.Upper and lower double circulation of the ore pulp in a fixed way, which is conducive to the suspension of coarse grain minerals.
Get Solution & Price Right Now!
leave your message here, we'll send you an Email immediately.
CONTACT US
0086-21-58386256
0086-21-58385887