F5X Series Vibrating Feeder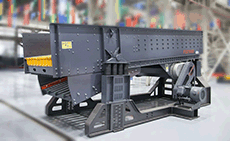 F5X Vibrating Feeder is designed as super-heavy operation condition with the strong vibration intensity of 4.5G and extremely firm chute body structure. With 1600TPH capacity, 1.5m maximum feeding particle size and 25~45 m³ standard capacity of bin, it is able to bear 80 m³ compartment pressure, which adapts to heavy compartment pressure, high load and heavy impact and the like poor conditions in the Primary feeding operation condition.
Super-heavy chute body structure
It has firm chute body structure and bears heavy compartment pressure, heavy impact load and high strength of machine body, which is the precondition to satisfy thick segment feeding operation condition as a qualified primary vibrating feeder.
Strong vibration intensity, large operation capacity.
Vibration intensity G-force is the key index to measure vibration machine's performance. The stronger it is, the larger operation capacity is.
F5X benchmarks international leading technologies and adopts advanced design philosophy and manufacturing technique. The vibration intensity is up to 4.5G, which is 30% larger than traditional devices. In the same specification, it has more operation capacity.
With FV super vibrator, it is efficient, reliable and convenient.
To satisfy higher performance and heavy load, repeated start-stop, frequency change and other poor conditions, F5X is equipped with FV super vibrator just like a heart, which achieves reliable operation, convenient maintenance, interchange of components, high degree of commonality, and lubricating maintenance period is up to 1500 hours.
Adequate rods equipment, high efficiency of pre-screening function
It uses rod structure of the combination of NM wear-resistant steel and ordinary steel, which has long lifetime, high efficiency of screening and convenient installation and adjustment. The rod opening set can be adjusted in the range of 80-200mm. The ladder drop structure of two section rod makes material secondly broken scattered, excludes thin stuff smaller than the tight side row ore mouth crusher free from repeated crushing with over 90% effectiveness and reduces the load of primary crusher greatly.
Get Solution & Price Right Now!
leave your message here, we'll send you an Email immediately.
CONTACT US
0086-21-58386256
0086-21-58385887