Artificial Sand Making Plant
Nowadays artificial sand is widely used in highway construction, concrete making, and relevant construction fields. Due to the gradual shortage of natural sand resources and the booming construction industry, machine-made artificial sand becomes even more popular in the market . Various types of rocks can be processed into sand including granite, natural river pebbles, basalt, limestone and so on.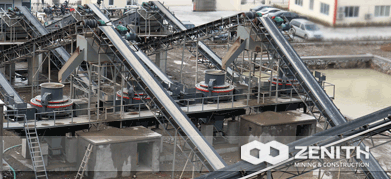 Artificial Sand Making Process:
The raw material is fed regularly by the vibrating feeder to the primary jaw and secondary jaw/cone/impact crusher for crushing. The crushed material is then transported by a belt conveyor to the vibrating screen for sieving. After sieving, proper sizes (<30mm or <40mm) would be transported to the sand making machine directly, while the oversized material will be returned to the secondary crusher for reprocessing. The crushed material from the sand making machine will be transported to another or the same vibrating screen for sieving again. The sand which meet fineness requirement can be transported to a sand washing machine for cleaning, and then be retained as final products. Oversized material will be returned to the sand making machine and screen for repeated crushing&sieving until all the materials are turned into sand. We can provide professional solutions to meet different capacity requirements.
Related equipment used in this plant:
Get Solution & Price Right Now!
leave your message here, we'll send you an Email immediately.
CONTACT US
0086-21-58386256
0086-21-58385887