Zenith Stone Crusher in Angola
Case Study
A Crushing Plant invested by Chinese Government aims to crush Granite Stones for road construction. The detailed requirements are as following:
Raw material: Granite
Feeding Size: 800mm Output size: 0-5mm, 5-20mm, 20-40mm
Procuction Process
The raw materials are unloaded by trucks into the hopper. By vibrating feeder, raw materials are regularly fed into Primary Jaw Crusher which could reduce 800mm stones into approx.150mm. The half-finished products from Jaw Crusher will be conveyed by Belt Conveyor. #1 and piled up into the transmediate storage hopper. Another small Feeder under the stockpile will feed the stored materials regularly into Belt Conveyor #2 so as to transport the material to the following Cone Crusher S51''. After secondary crushing, products will be conveyed bt Belt Conveyor #3 & #5 to the Vibrating Screens for size separation: 0-5mm, 5-20mm, 20-40mm and +40mm. The unrequested products which are bigger than 40mm will be returned to the tertiary Cone Crusher S36'' by Belt Conveyor #4 for further crushing, while products with requested size will be piled up by Belt Conveyor #6. Natural fines from the grizzly bar of the vibrating feeder are conveyed by Belt Conveyor #7 as separate stone scrap.
Flow Chart for This Crushing Plant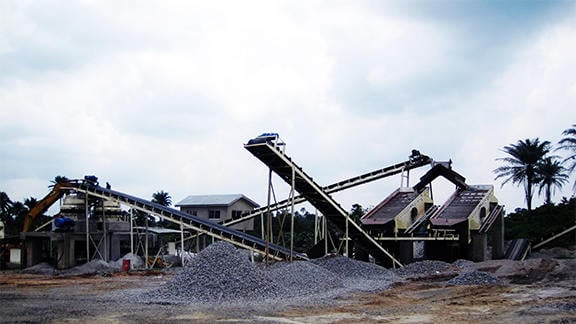 Feedback From The User:
High crushing efficiency with big capacity, Longer service life of spare parts, easy maintenance.
Previous Project Case: Zenith Concrete Crushing Plant in Brunei
Next Project Project: Manufacturing Sand From Rocks With B-VSI-7611 in UAE
Get Solution & Price Right Now!
leave your message here, we'll send you an Email immediately.
CONTACT US
0086-21-58386256
0086-21-58385887