Dolomite Processing Plant
Dolomite is one kind of carbonate mineral which includes iron dolomite and manganese dolomite. The dolomite can be used in building materials, porcelain, glass and refractory after crushing. In chemical industry, agriculture, environmental protection, energy conservation, etc, the dolomite is also in a great demand. In zenith company, you could find the appropriate equipment for crushing and grinding dolomite materials.
Dolomite Crushing Process: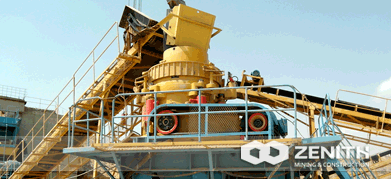 Big Dolomite materials are fed to the jaw crusher evenly and gradually by vibrating feeder through a hopper for primary crushing. After first crush, the material will transferred to impact crusher by belt conveyor for secondary crush; the crushed dolomite materials will then transferred to vibrating screen for separating. After separating, the parts that can meet standard will be transferred away as final products, while the other parts will be returned to impact crusher, thus forming a closed circuit. Size of final products can be combined and graded according to your specific requirement.
Grind the dolomite to ultrafine mill's process:
Vibrating feeder will feed dolomite materials into grinding chamber evenly and gradually. After being grinded, the powder will be blowed to cyclone by blower. Then the dolomite material will be transferred to storage room through pipes, and then will be discharged as final products. The whole process works in a negative pressure environment.
Related equipment used in this plant:
Get Solution & Price Right Now!
leave your message here, we'll send you an Email immediately.
CONTACT US
0086-21-58386256
0086-21-58385887