Feldspar Stone Crushing Plant
Feldspars play an important role as fluxing agents in ceramics and glass applications, and also are used as functional fillers in the paint, plastic, rubber and adhesive industries.
Feldspar is an important ingredient in the manufacture of glass and an important raw material, because it acts as a fluxing agent, reducing the melting temperature of quartz and helping to control the viscosity of glass. The alkali content in feldspar acts as flux, lowering the glass batch melting temperature and thus reducing production costs.
Feldspar Stone Crushing Process: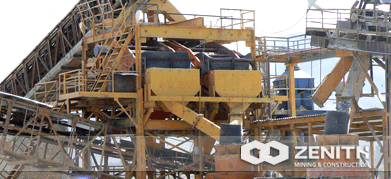 Big feldspar materials are fed to the jaw crusher evenly and gradually by vibrating feeder through a hopper for primary crushing. After first crushing, the material will be fed into cone crusher by belt conveyor for secondary crushing; then the crushed feldspar materials will be transported to vibrating screen for separating. After separating, the aggragates that can meet your requirements will be separated out as final products, while the other aggragates will be returned to cone crusher, This whole process can form a closed circuit for aggragates. Size of final products can be combined and graded according to your specific requirement.
If you want to get feldspar powder, grinding process is requested after crushing plant. The material should be crushed to below 20mm, and then be grinded into powder by mills.

Feldspar material's grinding process:
The common feldspar grinding mill is vertical roller mill. Vertical mill is an advanced grinding machine, which integrated with drying, milling, grading and transporting. It is the high standard mill which can meet the high capacity of powder producing request. LM vertical grinding mill is widely used in cement, powder station, metallurgy, chemical and non-metal industry.
Related equipment used in this plant:
Get Solution & Price Right Now!
leave your message here, we'll send you an Email immediately.
CONTACT US
0086-21-58386256
0086-21-58385887