Australia 150tph Stone Crushing and Screening Plant
Case Study
Australia 150 tph stone crushing and screening plant
Raw Material: limestone
Feed Size:500-600mm
Output Size Requirement: Seven kinds of final products
Capacity: about 150TPH
The working process:
1. Firstly, the big raw material will be put onto the vibrating feeder(GZD1100*4200) by the truck or excavator, then the materials will be put into the cavity of the jaw crusher (PE750*1060) evenly under the stable vibration of vibrating feeder. Due to the reality that the cavity of PE750*1060 can reach 630mm, so the size of 500-600mm can be crushed easily by it. After the crushing of PE750*1060, the size of materials can reach 80-140mm, the first working part is over now.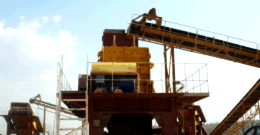 2. In order to achieve the goal of seven small-sized final products of customers, we have to crush the materials which have been crushed by jaw crusher PE750*1060 again. At this time, we prefer to choose impact crusher as secondary-stage crusher considering the hardness of the crushed stone (limestone). The impact crusher has been very popular among the customers because it has many advantages when crushing medium hard stone, like big capacity, high reduction ratio, uniform end product size and so on. Considering it is a crushing line of 150TPH, we intend to choose the model PF1315 impact crusher. The feed size for PF1315 can reach around 200mm, so it can crush the aggregates from the jaw crusher easily.
3. After the primary crushing of jaw crusher and further crushing of impact crusher, the size of the products can basically meet the demands of our customer, but how to classify them according to their sizes at this time, this is a question ahead of us. And now what we need is some particular screen which can sift these aggregates to different-sized piles, that is the vibrating screen with feature of multi-layer, reliable and stable structure, high screening efficiency. And we decide to choose the model 3YK2160 and 3YK1548 screen in view of the 150TPH capacity.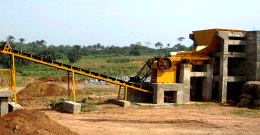 4. The materials from the impact crusher will be conveyed to the screen 3YK2160 first through belt conveyor, and three kinds of materials are screened out by it at this time (bigger size). Among that, the materials on the uppermost layer of 3YK2160 are then conveyed to 3YK1548 by belt conveyor and then another 4 kinds of materials are screened out finally (smaller size). And the whole working process is finished by now.
Feedback from customer: Our customer are very satisfied with our plan, reasonable and efficient, economical and practical. He gives a high evaluation on this plan not only from the technology perspective, but also from the high economic benefits.
Previous Project Case: Peru 60-80 tph Stone Production Line
Next Project Project: A Very Successful 200-250tph Crushing Plant in Kenya
Get Solution & Price Right Now!
leave your message here, we'll send you an Email immediately.
CONTACT US
0086-21-58386256
0086-21-58385887