Copper is mainly used in electrical equipment manufacturing, construction, such as roofing and plumbing, industrial material, such as thermal converter and alloys. The main long established copper alloys are bronze, brass (a copper-zinc alloy), copper-tin-zinc, known as gun metal, which was strong enough to make guns and cannons. Besides, copper and nichel, known as cupronickel, which was the preferred material for low-denomination coins.
Copper Ore Processing Plant: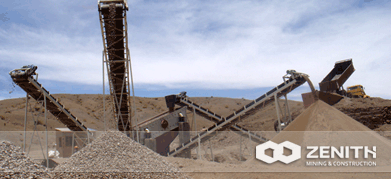 Copper ore in larger size will be fed to the jaw crusher evenly and gradually by vibrating feeder through a hopper for primary crushing. After primary crushing, the material will transferred to cone crusher by belt conveyor for secondary crushing; the crushed copper ore stone will then transferred to vibrating screen for separating. After separating, the parts that can meet standard will be transferred away as final products, while the others in larger size will be returned to cone crusher, thus forming a closed circuit. Size of final products can be adjust and graded according to your specific requirement. The most suitable feeding size for further grinding equipment ball mill is about 0-10mm to keep the high grinding efficiency.
Related equipment used in this plant:
Get Solution & Price Right Now!
leave your message here, we'll send you an Email immediately.
CONTACT US
0086-21-58386256
0086-21-58385887