Bauxite ore is a kind of mineral which is often collectively formed by gibbsite, a boehmite or a diasporeone. Bauxite can be widely used in many industries, among which the most important is to be used to refining aluminum, working as refractory and abrasive materials, and raw materials for high alumina cement.
Raw Bauxite Crushing Process: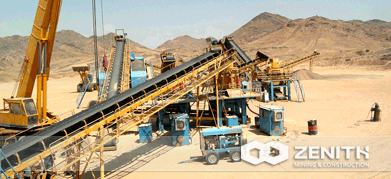 Bauxite ore in larger size will be fed into the jaw crusher evenly and gradually by vibrating feeder through a hopper for primary crushing. After primary crushing, the material will transferred to impact crusher by belt conveyor for secondary crushing; the crushed bauxite stone will then transferred to vibrating screen for separating. After separating, the parts that can meet standard will be transferred away as final products, while the othes will be returned to impact crusher for further crushing, thus forming a closed circuit. Size of final products can be adjust and graded according to your specific requirement. For further grinding, the selection for the equipment should base on your specifical requirement and the characteristics of the bauxite.
Related equipment used in this plant:
Get Solution & Price Right Now!
leave your message here, we'll send you an Email immediately.
CONTACT US
0086-21-58386256
0086-21-58385887