Zenith 100-120 T/H Mobile Crushing Line in Addis Ababa
1. Background
In the year of 2013, Ethiopia government started a house infrastructure construction plan, they planed to build 3000 sets house in 5 year. There is a big demand of construction aggregate in the few years, it promote the development of quarry industry. More and more people consider to start their crushing project.
Different with other market, most of the client in Ethiopia prefer portable crusher, the traditional stationary crushing plant cannot meet their requirement. Zenith Portable crushing plant becomes more and more popular Ethiopia market against its advantages of prompt installation and convenient transportation.
Below let us study the case of our 100-120tph mobile plant in Addis Ababa, Ethiopia

2. Case Study:
Ethiopia :100-120 TPH Mobile Stone Production Line
Raw Material: Limestone
Feed Size: 500mm
Output Size Requirement: 0-6mm, 5-14mm, 14-25mm
Capacity: 100-120TPH
The configuration of the Mobile crushing plant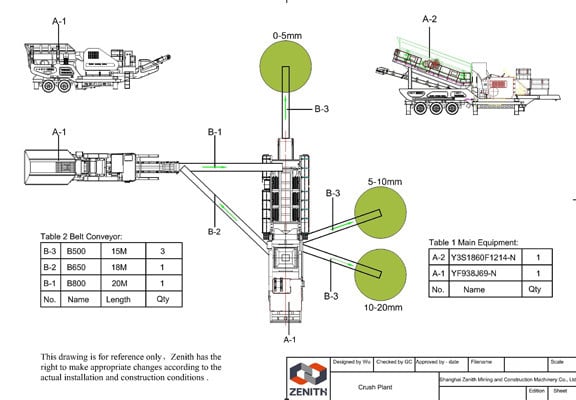 3D layout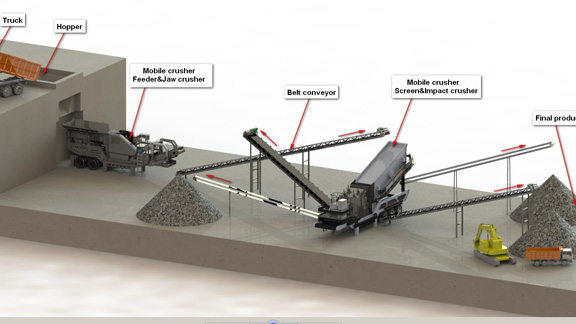 1.Frist, the material will be charged into the hopper and then be feed into PE600*900 Jaw crusher by the feeder GZD3800*960; The material will be primarily crushed from 500mm to <150mm.
2.The crushed material from Jaw crusher will be send to PFW1214III Impact crusher for secondary crushing. After secondary crushed by Impact crusher, the crushed material will be send to vibrating screen 3YK1860.
3.The material size that bigger than 25mm will be send to Impact crusher for tertiary crushing, material smaller than 25mm will be send to next 3YK1860 vibrating screen and be sieved as the final product
3.Main machine:
Mobile crusher YF938J69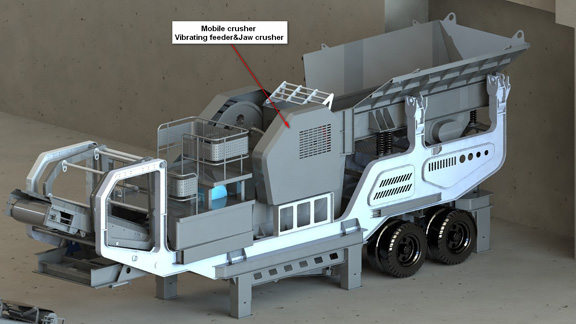 Mobile crusher Y3S1860FW1214III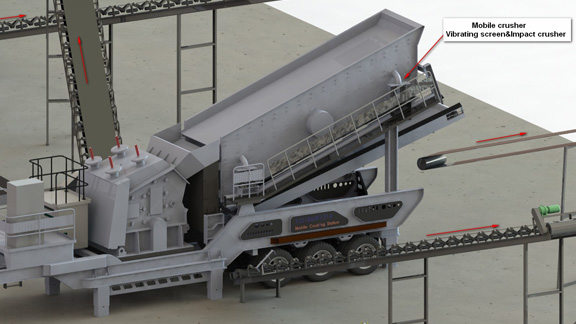 4.Portable Working site in Ethiopia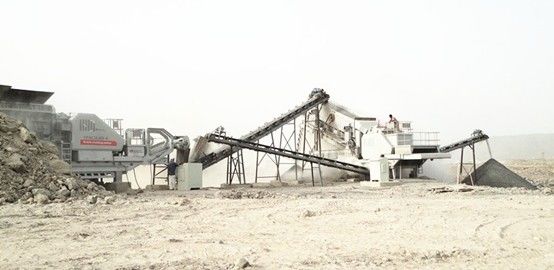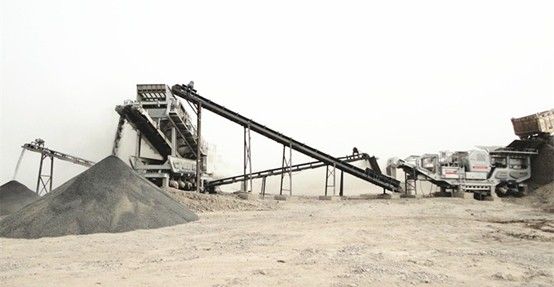 5. Technical advantages
——Easy transportation:
Y series portable crushing plant is designed for road transportation, especially for driving to crushing sites that are difficult to access, which greatly reduce installation time compared with the stationary one.
——Wide application:
It can be operated as independent units or as two-stage crushing plant with primary and secondary crushing or as three-stage crushing plant with primary, secondary, and tertiary crushing according to different clients' requirement
——Belt conveys on board:
The belt conveyor can be adjusted hydraulically to meet various requirement.
——Integrated Hydraulic System:
The biggest advantage is when plants arriving to the quarry site, they can be installed and do the commissioning immediately without extra crane.
——Greatly reduce material transportation cost:
Y series portable crushing plants crush the material on site, without transporting the materials for off-site crushing, so the material transportation cost is greatly reduced.
Previous Project Case: Zenith 100-120tph Stationary Crushing Line in Addis Ababa
Next Project Project: Zenith 100-120tph Stationary Crushing Line in Kenya
Get Solution & Price Right Now!
leave your message here, we'll send you an Email immediately.
CONTACT US
0086-21-58386256
0086-21-58385887