Granite Stone Crushing Plant
Granite is one kind of igneous rocks formed by the condensate of magma below the surface. The main component of granite mine is quartz, feldspar and mica. The crushed granite rocks also can be used in cement or to be filled in Dams. In addition to being used as advanced architectural decoration project and the hall ground, Granite is also the best material for sculptures.
Granite Stone Crushing Process: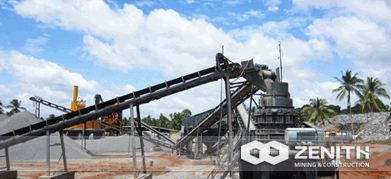 Big granite materials are fed to the jaw crusher evenly and gradually by vibrating feeder through a hopper for primary crushing. After first crushing, the material will be fed into cone crusher by belt conveyor for secondary crushing; then the crushed granite materials will be transported to vibrating screen for separating. After separating, the aggragates that can meet your requirements will be separated out as final products, while the other aggragates will be returned to cone crusher. This whole process can form a closed circuit for aggragates. Size of final products can be combined and graded according to your specific requirement.
Related equipment used in this plant:
Get Solution & Price Right Now!
leave your message here, we'll send you an Email immediately.
CONTACT US
0086-21-58386256
0086-21-58385887