Manufacturing Sand From Rocks With B-VSI-7611 in UAE
The introduction of B series Deep Rotor VSI cone crusher is born to resolve two problems in quarry field: the shortage of natural sand resources driving investors to resort to sand making machinery for artificial sand; the increasingly strict market demand for better aggregate shape.
Case Study
A quarry operator in the UAE plans to expand their crushing and screening plant in order to cope with an increasing demand in chip and sand in the market.The raw material is marble. They already have one primary jaw and a secondary impact crusher. Final products they required is 0-5mm; 5-10mm; 10-20mm (total 3 products). Yet, material comes out from the impact crusher are mostly above 20mm. The secondary impactcrusher has been running at smallest discharge opening, yet still unable to yield products with required fines requirements.
Solution
After consultation with Zenith engineer, they would like to add a B Series Deep Rotor VSI-7611 in the existing plant. This machine will further process the current outputs (20-40mm) into 0-5mm; 5-10mm; 10-20mm.
The B-VSI is designed to produce find sand size product with good cubical product shape. After commissioning, the capacity of the plant is proved to be well increased to the capacity of 150t/h which lives up to his previous expectation.
Advantage of B-Deep Rotor VSI Crusher
Rotor is the heart of VSI, and the success of Zenith B-VSI should be attributed to the application of advanced design of its deep rotor.
The deep rotor is about 50% bigger than that of normal rotor, which means there is a greater space between distributor and feed eye ring, as well as between the upper and lower wearing plates. Capacity in this way is increased at least by 30% compared to the traditional VSI crusher.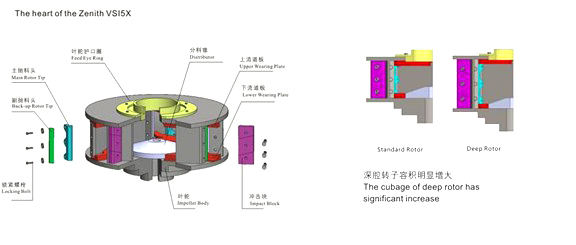 Previous Project Case: Zenith Stone Crusher in Angola
Next Project Project: Zenith Screening Plant in Palestine
Get Solution & Price Right Now!
leave your message here, we'll send you an Email immediately.
CONTACT US
0086-21-58386256
0086-21-58385887