Malaysia 300TPH Impact Crushing Plant
Case Background
Coutry: Malaysia
Company:SAMALAJU QUARRY SDN BHD
Location: JalanBauLundu, Kuching, Sarawak, Malaysia
Requirements:
Material: Limestone
Capacity: 300tph
Max feeder size: 820mm
Final Products: 0-10mm, 10-20mm, 20-40mm
Design: Hopper 3000*4000 – Feeder GZG1300*4900- Jaw crusher PE900*1200, Impact crusher PFW1315III*2 –Screen 2YK2160*3, Belt conveyors
Design highlights:
1: The design is workable to make sure the main machines can work most effectively.
1: Steel structures for all the main machines, So that it can save much time and labor cost to build up the concrete foundation. Also good for reusing and maintain.
2: The impact crusher PFW1315III is our most advanced type, the curtain design, the adjust system; lubrication system and main structure have been updated.

Feedback from customer:
"The crushers are running well. The jaw, the impact, and screen are working hard and efficient. Until now, we haven't replace the spare parts in the 2-year. And the after-sale service is excellent and timely. All in all, it is a nice cooperation. "said by the factory director-Mr. Wu.
Picture of working site:
Flow chart: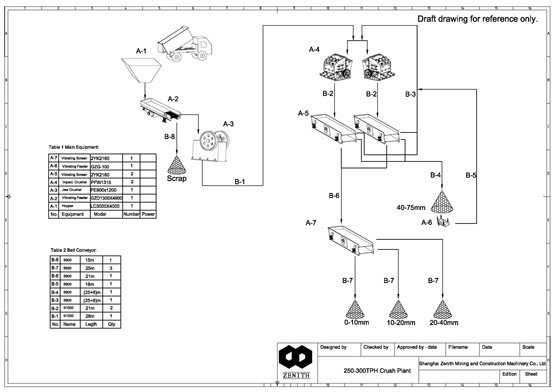 Previous Project Case: Zenith Cone Crusher Line In Indonesia
Next Project Project: ZENITH 300 TPH Stone Production Line in Suhar-Liwa, Oman
Get Solution & Price Right Now!
leave your message here, we'll send you an Email immediately.
CONTACT US
0086-21-58386256
0086-21-58385887