Kenya 30-40 TPH Stone Production Line
1.Crushing industry is booming in East Africa.
Kenya has already taken action and planed to promote the steady growth of economic by investing infrastructure construction. Government will issue 360 billion Kenyan shilling bonds(about 4.5billion dollar) for the infrastructure construction in 2013.
Furthermore, the other East Africa countries like Ethiopia, Zambia, Tanzania, Uganda has increased the investment on their infrastructure recent years. It indicates that crushing industry has a bright future in East Africa.
Crushing industry is booming in East Africa. Many new investors want to enter this industry. But usually, setting a quarry plant is a big project, it needs big money in the starting stage.
The crushing line below we designed is very popular in East Africa, it is very much suitable for the investor who want to quickly join this business.
Kenya 30-40 TPH stone production line
Client materials: granite
Discharge: 0-6mm, 6-14mm, 14-20mm(Kenya standard)

3.The configuration and process of the crushing plant
Zenith engineers design the configuration according to customer demand as follows: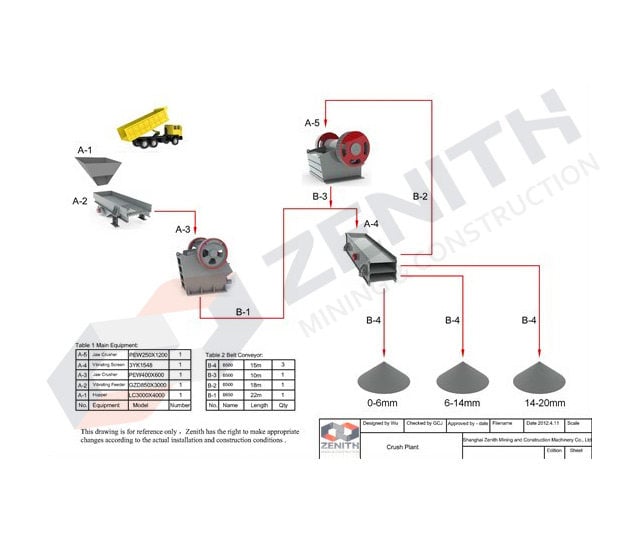 4. The advantage of this crushing line
1. Small Initial Investment:
For there are only two small main crusher with low power consumption, so the procurement cost and production cost are very low
2. Short manufacture cycle:
The manufacturing time for this small plant is around 1 month.
Our experienced engineer can install you crushing line in one month, Low time consumption allow our client get their investment back soon.
4. Simple operation and maintenance:
As the main machines in this plant is simple jaw crushers, it is easy for your local worker to operate and maintain the crushing line, it decrease your labor cost.
5. Resident engineer and prompt after-sale service:
We have our office set in Nairobi, Kenya, and we have experienced engineer there, who can provide prompt and good after-sales services for East Africa countries.

So my friend, what are you waiting for?
Previous Project Case: A Very Successful 200-250tph Crushing Plant in Kenya
Next Project Project: Kenya 100 TPH Mobile Stone Production Line
Get Solution & Price Right Now!
leave your message here, we'll send you an Email immediately.
CONTACT US
0086-21-58386256
0086-21-58385887