Oman 200TPH Pebble Crushing Line
Project Profile
Location: Oman
Material: Pebble (also "river stone")
Input Size: Below 300mm
Output Size: 0-3, 3-5, 5-8mm / 0-5, 5-10, 10-20, 20-40mm
Capacity: 200tph
Daily Operation: 10 hours per day
Voltage: 415V, 50Hz
Installation Time: 2010
Equipment: GZD1300*4900 Vibrating Feeder, PF1214 Impact Crusher *2, 2YK2160 Vibrating Screen, 3YK2160 Vibrating Screen, XSD2610 Sand Washing Machine *2, Belt Conveyors
Customer's Requirements
To cater for needs from aggregate buyers, the customer had a thirst for the crushing machines which can produce final products with cubic shape because cubic aggregates usually have better granularity. The required capacity was 200 tons per hour. Besides, the customer was worried about long downtime and economic losses caused by failure of spare part supply. So he put a high standard on our after-sales service and on prompt delivery of spare parts.
Flow Chart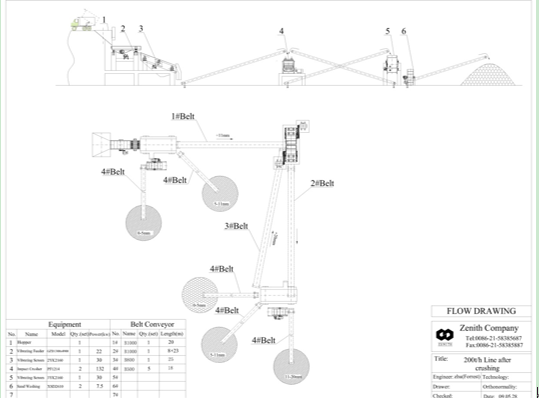 Project Advantages
1.Cubic Shape
The river stones crushed by the PF1214 Impact Crusher will get good cubic shape. Cubic aggregates can help increase the strength of concrete and save cement consumption, good for the construction projects.
2.Clean Sands
By using XSD2610 Sand Washing Machines, sundries and dust will be washed out and the sands will be cleaner.
3.Permanent Engineers and Prompt After-sales Services
ZENITH has an office set in Dubai where our marketing managers and skilled engineers are working there. They can provide prompt and good after-sales services for countries at the Middle East.
Customer Feedback
Our aggregates sell very well because of the cubic shape. Nowadays, more and more projects care more about the shape of aggregates such as the airport construction. The first cooperation with ZENITH was pleasant. So we are considering to buy new crushers to enlarge the scale of the existing plant.
Previous Project Case: Saudi Arabia 600TPH Granite Crushing Line
Next Project Project: Oman 300TPH Gabbro Crushing Line
Get Solution & Price Right Now!
leave your message here, we'll send you an Email immediately.
CONTACT US
0086-21-58386256
0086-21-58385887