One concept, four designs achieve K series Mobile Crusher Plants
Time: 2016-03-24
As our economy grows, more and more aggregates are needed for roads, railways and buildings. Manufactured aggregates and sand are developing rapidly as natural resources draining off. Faced with the constraints of land and environment of traditional equipments, K series Mobile Crusher Plants developed by Shanghai Zenith company captured hearts of customers by the Four Designs.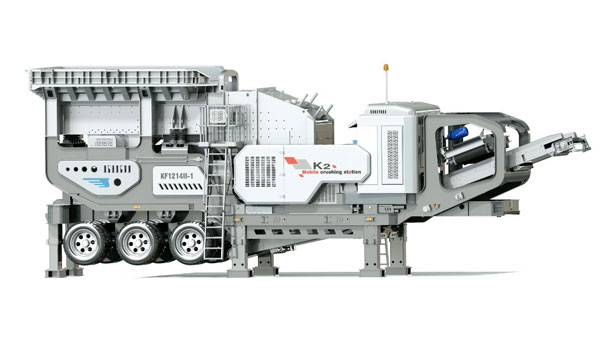 "On-site processing"concept accomplishes K series Mobile Crusher Plant
The challenge which most mining companies are facing is how to simplify crushing process, realize low-cost mining, and achieve reduction of transportation cost. The "on-site processing" concept of Zenith Mobile Crusher Plants, eliminates the obstacles and provides simple, efficient, low cost solution.
The "on-site processing" concept means to break geographical restrictions of stationary crushing plant, bring great convenience to crushing operations, eliminate obstacles of site, environment, foundation and transportation. Mobile Crusher Plants are like movable crushing factories, provide customized, simple, effective solutions.
In the course of surface mining, Mobile Crusher Plants can be moved to different mining spots accordingly, reduce transportation cost of ore greatly. Generally, high grade ore could meet demands of finished products through two stages of crushing, by simple crushing production line consist of two Mobile Crushers, finished products can be transported by multiple ways like truck. The crushing procedure is pretty simple.
Four innovative design forge perfection of K series Mobile Crusher Plants
1. Designed for value maximization of customers: K series ruber-tyerd Mobile Crusher Plants contain seven modules, more than 70 different models, could be used for stages like coarse crushing, medium crushing, fine crushing, sand making, sand washing, shaping and screening in many domains like metal ore mining, building aggregates, waste management, etc. Customer's requirements can be greatly satisfied, providing all-sided, systematic, integrated solution, is what we have been devoting ourselves to.
2. Most advanced modular design – universality of chassis and interchangeability of main units: K series Mobile Crusher Plants adopted modular design, one model of chassis can be used for several different models, achieved interchangeability of units. Various needs of customers can be met easily through changing main units at sites.
3. Great flexibility of combination – variety of collocation of machines for different crushing stages and screening: K series Mobile Crusher Plant can be used separately or together with other Mobile Crusher Plants to achieve two stages, three stages, four stages crushing, meet various needs.
4. Most humanized structure design: K series Mobile Crusher Plants control folding, lifting through hydraulic system, simple to operate, equipped with hoist tools for maintenance, operation deck, service toolkit, and central control system, etc, with more humanization for maintenance and operation. Also there is spraying device to control dust, iron separator and other optional devices, meet different requirements.
With 30 years of development, Shanghai Zenith has made remarkable progress of innovation. Adjusting strategies of innovation and optimization according to national policies and market requirements, K series Mobile Crushers become a legend in mining industry, and show our capability of innovation to the world.
CONTACT US
0086-21-58386256
0086-21-58385887