Shanghai ZENITH accelerated global strategy,signed investment agreement in Hong Kong
Time: 2011-01-06
In 13th, December, 2010, shanghai pudong new district government hold the Symposium and Networking signing ceremony named 'Partnership and Success'in Hong Kong. Pudong and Hong Kong signed 18 cooperating programs which covering many districts like financial services, High-End Equipment making, shipping logistics, cultural creativity, biological medicine etc on the spot. The total investment price reached more than 25 billion Hong Kong dollar.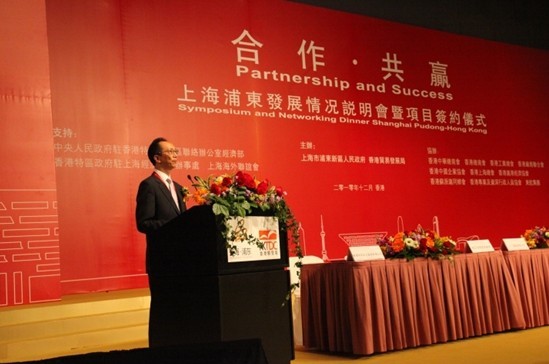 The signing representative crew of SHANGHAI ZENITH MINING AND CONSTRUCTION MACHINERY CO., LTD. attended the meeting in Hong Kong, signed agreement about the new investing program of group company in shanghai and Hong Kong.
The Chief Secretary for Administration of the Hong Kong Special Administrative Region Mr Henry Tang, vice-head of Liaison Office in the HKSAR Guo Li, chief of Commerce and Economic Development Bureau in Hong Kong Lau Ng Wai-lan witnessed the signing ceremony. Chief Executive of Hong Kong Exchanges & Clearing Ltd. Charles Li, head of greater China of The Blackstone Group Antony Leung, shanghai scholar &writer Yu Qiuyu made key-note speech during the meeting.
The year 2010 is the 20th year since pudong new district has developed and opened. In 12th Five -Year Plan, Pudong is orientated as the international economy, finance, trade, and shipping core function district by shanghai government. The deputy district head Dai haibo pointed out, now hongkong is the first investment source to both Pudong and shanghai.
SHANGHAI ZENITH MINING AND CONSTRUCTION MACHINERY CO., LTD. is located in Pudong, its regional development potential brought by region advantage provides infinite commercial opportunities to its composition in global market.
Lau Ng Wai-lan announced, there are 1122 Kong Hong investing programs in shanghai in 2009 whose total amount reached 4 billion USD, take 37% of its total investing amount. She also said that, as the servicing city of inland china, shanghai is the hot place developed according to CEPA by the Hong Kong service trade. Meanwhile, Pudong is one of the first set implementation of CEPA demonstration plot. Under CEPA, shanghai and Hong Kong will go further to build bilateral investment improving terrace.
With the opportunity brought by shanghai-Hong Kong bilateral investment improving terrace, shanghai ZENITH is accelerating its pace of overall strategies arrangement in global and home market. Signing agreement in Hong Kong is a important step in its globalization. In 2011, with the formal production and operation of the signed program, shanghai ZENTIH will make a big profit form it.
CONTACT US
0086-21-58386256
0086-21-58385887