EXPOSIBRAM 2011-INTERNATIONAL MINING EXHIBIT
Time: 2011-08-22
Our booth information:
DATE: 26.09.2011-29.09.2011
EXHIBITER: SHANGHAI ZENITH MINERALS CO., LTD.
BOOTH: C4
ADDRESS: Centro de Feiras e Convenções de Minas Gerais- EXPOMINAS
Av. Amazonas, 6030- Bairro da Gameleira
Belo Horizonte, Minas Gerais

Introduction Brief:
EXPOMINAS, today, is one of the biggest and best centers in Brazil for large events and fairs. Located in Park Gameleira, it is connected directly to a metro station which allows the public to be in the city center in just six minutes. The distance from the Expominas to the airport just needs 50 minutes. With more than 71000 m2 of constructed area, the Expominas is the only one in Brazil that offers air conditioning and acoustic treatment, as well as new generation cabling, automation system comprising 3.500 points for voice and data, 500 pairs for telephony, detection and fire alarm and electronic security.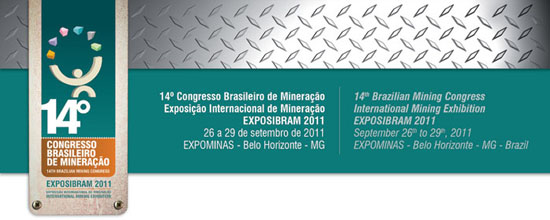 CONTACT US
0086-21-58386256
0086-21-58385887