One Person, One Year, Fifty Million
Time: 2011-12-13
--To congratulate Lemon of Shanghai Zenith have created a new record of personal annual sales



December 13, 2011, the staffs of Shanghai ZENITH International sales center gathered together to celebrate Lemon has created a new personal sales record in our group.

With the exciting singing, Shanghai ZENITH International sales center began their morning meeting. And then, the center manager announced a message that inspired all staffs: Yesterday one of the new sum of money credited into account, declaring that the total personal sales of Lemon has reached 52.74 million Yuan, which refresh the annual personal sales records of group.

In the applause, the surprised Lemon was invited to the stage, and shared her growing experience with everyone. First, she thanked the comrades who have struggled together and made efforts with her. In retrospect, Lemon felt that she became calmer. She still remembers that it felt out of reach of seniors' achievements when she first entered into company. It seems, "as long as work hard and step by step, when you look back, you will find that there is nothing impossible." She also gave this proverb to every presence new employees.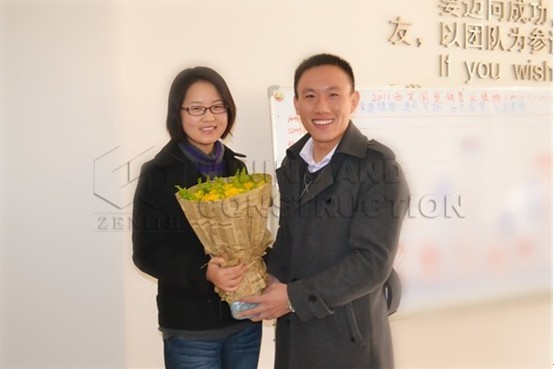 As the direct leader of Lemon, Manager Lu laments that, "I did not expect that we can have such a result. When I got the target set company designed for us, all of us thought it's impossible, but now it seems that 'did not expect' and 'impossible' is not meaning the performance and digital, but a miracle. Please do not think that a miracle is difficult, you are now in such a team, perhaps in the future, and you're a miracle man. We must be patient, let us wait and see. "
During the celebration dinner, Zhang Ting------the protagonist also received a bunch of sunflower and a bottle of aging wine. In the dynamic music, all of the staffs of Shanghai Zenith International Trade Center were holding the glass to celebrate this historic moment.
One person, one year, fifty million. It is not only part of Zhang Ting's own records; it is also the common pride of Shanghai Zenith International Trade team. This is not the honor of the end, but towards the each and every member of the joint, this is not the honor of the end, but the starting point towards a broader professional arena.
Blessing Lemon, always smiles!
CONTACT US
0086-21-58386256
0086-21-58385887