Analysis Meeting upon Sales of Q1 is Held
Time: 2013-05-07
Recently, ZENITH First Quarter Sales Data Analysis Meeting has been held as scheduled. This meeting reported the sales figures of the first quarter, the enquiry amount and company operational status. The statistic shows that the target intended goals made at the early of the year.

In the past three months, ZENITH got great success. At the end of 2012, ZENITH improved the production deployment and the production base has fully upgraded. In January, many Million-Dollar orders are signed. Also, the total enquiry-volume added 15% than that of last year and the quality increased 2 percent. Meanwhile, the business-reception level is greatly improved. According to the customs export data, the export volume of ZENITH during January & February ranked the third.

Subdivide with the annual business objectives, ZENITH has well finished the work in Q1 and it is up to 43% of the general objectives of 2013. Comparing with the sales of the last year, the operating status in the first quarter is good and the sales increased greatly, 116% than that of last first-quarter. What's more, mine crushing machinery has been the fast-growing field in ZENITH.

ZENITH marketing manager expressed,"Along with the launch of bauma 2013 and then of the Canton Fair in April, ZENITH will go through another busy & substantial time. In the face of more and more customers coming to visit us, we need to make a micromesh &considerate preparation work, ensuring that we could provide the best and the most satisfied solution and service to our customers . "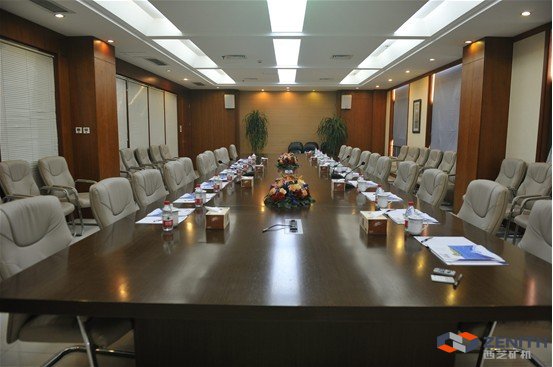 Zenith Meeting Room
CONTACT US
0086-21-58386256
0086-21-58385887