ZENITH Wap Site Upgraded - Offering A Better User Experience
Time: 2013-05-22
Recently, ZENITH wap site is upgraded by its E-commerce Team after well investigation and survey. On the base of easy to use, the site interface is greatly improved and many humanized designs are used, offering ZENITH's customers a better user experience.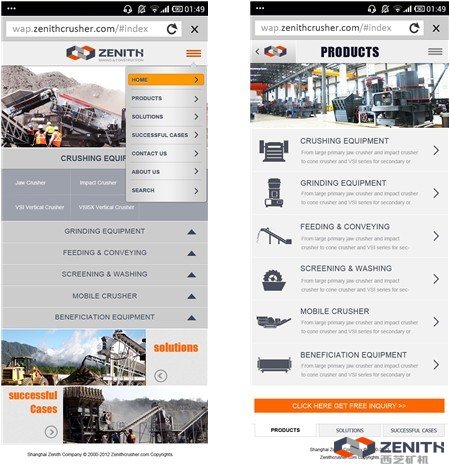 ZENITH Wap Site Interface
In the interview, the principal of this site said," It's well known that most smart phone use screen at the size of 3.5-5 inches. When end-users use the wap-web, they tend to grasp available information quickly, so we must highlight them and ensure that users get them at the first time. Through the investigation and survey, we hide many less important information and deleted many dispensable information. To offer customers a better sight experience, we also beautify the web interface and pictures." Comparing with the old wap site, the upgraded one has a very emphasized enquiry-submit button. If customers are interested in any products or have any questions, they can send inquiry to us easily by using the button.
It is reported that Zenith wap site, as one part of ZENITH global websites, will enrich ZENITH information-base and it is good for ZENITH to perfect the ability of offering customized service and better satisfy clients.
CONTACT US
0086-21-58386256
0086-21-58385887