Cone Crusher Wear Parts
Time: 2018-08-21
Cone crusher is widely used in mining, concrete factory, sandstone making etc. It is particularly suitable for crushing hard and super hard materials with compression strength below 350Mpa. In this article, we mainly talk about the main wear-resistant parts in cone crusher.
Cone Crusher Wear Parts
A cone crusher is composed of cone head, concaves, mantle, movable cone, eccentric bearing, sealing gasket, slab (frame liner), guard plate, gear, bowl liner, bushing, movable bushing and some other parts. Among these wear parts, concaves and mantle, slab, guard plate are the main wear parts in cone crusher.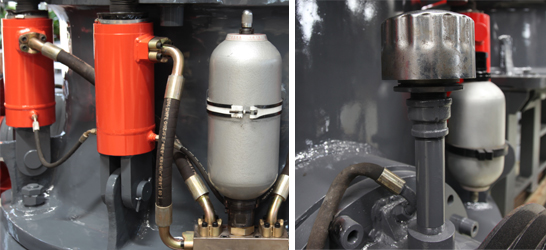 Functions Of These Parts
Concaves and mantle: they are both very important wear-resistant parts in cone crusher. The concaves is fixed on the adjusting ring by U-shaped bolts and mantle is fixed on the main body by the cone head. Concaves and mantle form the crushing cavity of cone crusher. While working, the concaves does not move and the mantle moves forward to the concaves, in this process, the raw materials get squeezed and crushed.
Slab: slab is mainly used to reinforce the outer case of the machine.
Guard plate: guard plate is mainly used to protect the cone crusher. While crushing, the crushed raw materials fall down to the discharge opening, guard plate is to avoid the materials fall on the main body.
Factors Affect The Parts' Service Life
There are some factors affect the service life of these wear-resistant parts. The first one is the material to make the wear parts. High quality materials will extend the service life of the wear-resistant parts. We adopts manganese steel to make the above mentioned wear parts, which effectively extend their service life. The second one is the raw material need to be crushed. The third one is the operating conditions, such as the input& output size, the capacity, the local environment, the moisture content of raw materials.
CONTACT US
0086-21-58386256
0086-21-58385887